We stayed 5 night at Hotel Amadeus-Micheluzzi in Serfaus 190 kilometer SW of Munich. My trip log book notes approx. 220 snowboard kilometer driven on 28 different routes (no estimates this time) in 4 skiing days at the ski resort Serfaus, Fiss & Ladis with 40 lifts and  190 ski run kilometers.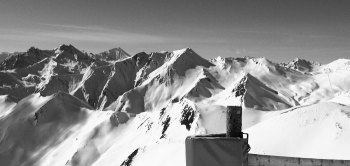 Doing so 9.050 kcal were burned in 21h05min of boarding (including lift rides, nearly no breaks at all) while constantly listening to 15 songs in my snowboard playlist; for relaxing we entered 6 times into the sauna.
The environmental facts state that we had 1 day of sun, 3 days with massive snowfall an 20-30cm powder each day.